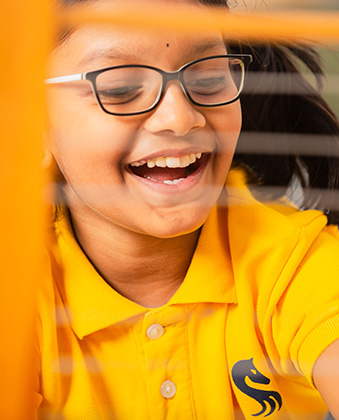 Kindergarten
Our Kindergarten Montessori Program offers the five key areas of study for the children: Practical Life,
Sensorial, Mathematics, Language, and Cultural
Studies.
5 Areas of Montessori Curriculum
The Montessori Practical Life Curriculum incorporates exercises and activities that children observe in daily life. These activities develop children's independence, concentration, and fine motor skills. Example material and activities include: Pouring, Washing clothes, Sweeping and more.,
Sensorial activities teach children to refine their senses of sight, touch, sound, smell and taste so that they are able to organize sensory impressions and their understanding of the world. Sensorial work also prepares children for mathematics, language and geometry by teaching children how to classify and sort. Example material and activities include: Pink Tower, Color Box, Trinomial cube and more.,
The Mathematics Curriculum teaches children to understand abstract mathematical concepts and relationships through hands-on learning experiences. Children learn to count, identify and match numerals to their quantity, relate decimal quantities and symbols, and become aware of the functions of addition, subtraction, multiplication and division by using the Montessori materials. Example material and activities include: Numerals and Counters, Teen board, hundred board and more.,
The Montessori Language Curriculum provides children with the knowledge and skills to build their vocabulary and understanding of language. The skills required for reading, writing and oral language are developed through hands-on experience using the Montessori language materials. Children learn letter sounds (phonics), letter identification and formation, how to combine sounds to make words, how to build simple sentences, and how to properly hold a pencil. Oral language skills are developed through daily social interactions, group time experiences, and lessons in grace and courtesy. Example material and activities include: Sandpaper Letters, Movable Alphabets, Three parts card and more.,
The Culture Curriculum incorporates a wide range of subjects, including: Geography, Botany, Zoology, Science, History, Music and Art. Through explorations of culture, children develop an understanding of their community, their world, and their social responsibilities. Example material and activities include: Land and Water forms, Continent Boxes, Map Cabinet and more., These programs work together to enhance children's learning and development during their crucial formative years.
Sarvvam Brochure
---
Age: 2 yrs 5 months to 6 yrs as on June.
Timing: 9.30 AM to 2.30 PM.
Elementary
Our Elementary environment provides an opportunity for children in different age groups to learn, share, practice, teach and explore together. The children in the age group of 6-9 years will be in Lower Elementary and the age group of 9-12 years will be in Upper Elementary. It is curated based on the developmental needs of individual children. At Sarvvam, learning happens not only through the guidance of the Adults, but also through the child's experimenting, researching, exploring and working in groups. Our children work with concrete materials which are intellectually stimulating, that leads them towards logical conclusions of abstract work. Our Elementary environment is led by the children who know that they are respected and valued as individuals. Children in the environment learn life skills such as self-direction, organization, responsibility and interpersonal cooperation.
An immersion into the history,grammar, etymology,and spelling of language including the experience of poetry, prose,drama,dialogue, discussion,debate, and research in English, Tamil and Hindi.
It begins with the big picture of the universe, exploring volcanoes, the work of water,wind and air, and the basic physical properties of matter that have shaped the world we inhabit.
A sequence of lessons leading to an understanding of abstract mathematical operations, incorporating the structure of the decimal system,the four operations and other key concepts.This also includes a rich geometry curriculum.
A curriculum that builds on the fascination children have for plants and animals to emphasize understanding of plant and animal behavior and physiology.
A study of the timeline of life,integrating natural and human history and focusing on the unique attributes of different cultures and the universality of all.
To educate children about organic food and bio-dynamic farming. Children learn about animals, plants and soil as a single system.
Bothmer Gymnastics plays a crucial role.It assists the development of the child's sense of movement, spatial awareness, balance, inner equilibrium and well-being through games and gross motor skills. Physical education also includes PT, horse riding and skating.
A curriculum developed by Dr. Montessori to introduce the child to his or her place and responsibility in society.
An important self-expression form of and part of the daily life of the class, using media like watercolors, chalks, pastels, clay, colored pencil, collage.
Sarvvam Brochure
---
Age: 6 yrs to 12 yrs as on June
Timing: 9.30 AM to 3.30 PM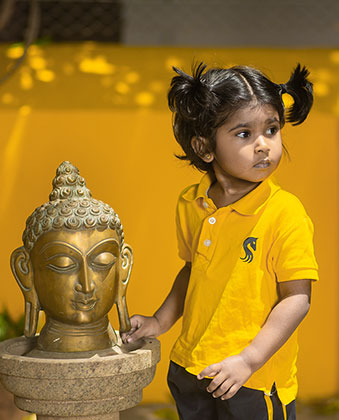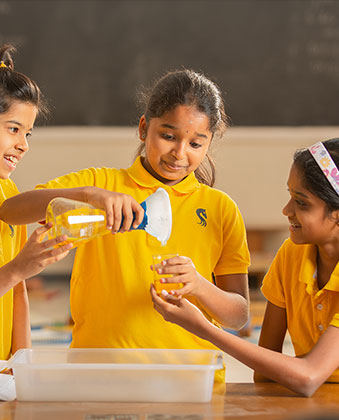 Adolescent / Erd Kinder
"The Greatest Gifts We Can Give Our Children Are the Roots Of
Responsibility And The Wings of Independence"

The adolescent program feeds the need to learn math, science, humanities and language work they do in the classroom to translate into what they need in their daily life through experiential learning. This program allows children to see their own role in everything, they are active doers, not passive watchers or listeners.

This curriculum focuses on three factors, Academic development which is combined with opportunities for real-world experience, through seminars and group discussions which help them to express their ideas and delve into deeper specific academic areas and the second factor is the Creative expression learning is not restricted only to academics, other forms like art, music, writing, drama which is a part of their curriculum. The final one, Occupational training which prepares children to the real world. The curriculum incorporates life skills and we at Sarvvam provide carpentry, sewing, food preparation, microeconomy, and farming as part of their curriculum. The unique feature of this program is engaging science concepts with practical real-world way, involvement in community service projects.

We believe education should not be restricted and restrained to academics within four walls. Learning to contribute to society is part of the curriculum, where the adult plays the role of a mentor and allows an opportunity for the child to explore the real world.
Sarvvam Brochure
Occupation refers to the plan of study for adolescents which is based on their immediate environment and follows a genuine inquiry. [Inquiry-based learning]. They are interdisciplinary projects, with clear goals, that encompass the basic elements of academic study needed in the area and a 'hands-on' approach to solving it which benefits the entire community.
Humanities projects help build in the adolescent foundations of the culture that are needed to become a contributing member of society. This encompasses many subject areas with some common elements of history and language. As all human culture is a study of the story of humans finding ways to meet their needs, all subjects grow out of it.
Micro economy deals with the introduction to production and exchange. It introduces to the adolescent the first glimpse into the economic value their work holds for others.
Community service deals with the adolescents actually taking care of the environment for the benefit of the whole community. T his is done through daily and weekly chores that are needed for the functioning of the place This is a key element, being able to contribute to the whole community and knowing a particular chore needed one's input to be accomplished gives adolescents the true feeling of being a valued member of the community. This also includes service learning outside of the immediate environment. Sustained interaction with the larger community and finding their individual 'worth' in society is crucial to the adolescent's self-perception and personality. This section has a strong focus on inclusivity and acceptance of self and others.
Self-expression plays a large role in the creation of the character and personality. It also identifies for the adolescent the 'self 'he/she is searching for. Through expressing his/her ideas, emotions he/she builds his/her self-image and finds his/her uniqueness.
After School
HORSE RIDING
Riding is one of the skill developments that the child learns from the horse and horse learns from the child.
ROBOTICS
"There are an endless number of things to discover about Robotics. A lot of it is just too fantastic for people to believe" - Daniel H. Wilson
THEATRE
"Free the child's potential and you will transform him into the world"- Maria Montessori Theatre is a creative platform, which is offered to every child in U.E elementary years.
FARMING
"When children come in contact with nature, they reveal their strength"- Children engage themselves in farming and micro economics.
POTTERY / CRAFT WORKS / COOKERY
The hand work of the child is excelled through pottery, form drawing, stitching and other activities.
Sarvvam Brochure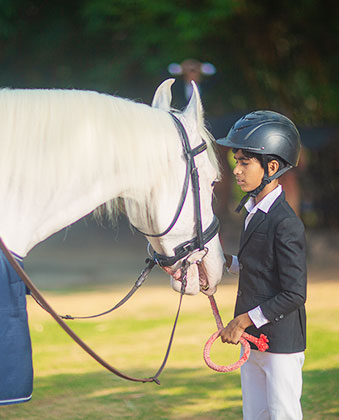 Subjects
Math
Geometry
Biology
Physics
Chemistry
---
History
Geography
Languages
Astronomy
---
Economics
Accounting
Vocational Skills
---
Visual Arts
Performance Arts
Physical Education
Bothmer Gymnastics
Horse Riding